Expect many content online. We will cover topic of how to run, fuel, eat, rest and live better. Athletes, enthusiasts and kids are welcomed!
Also learning about partner charities.
From September 28 to October 7th.
06/10/2020 Broadcast Programe:
Click to watch today's stream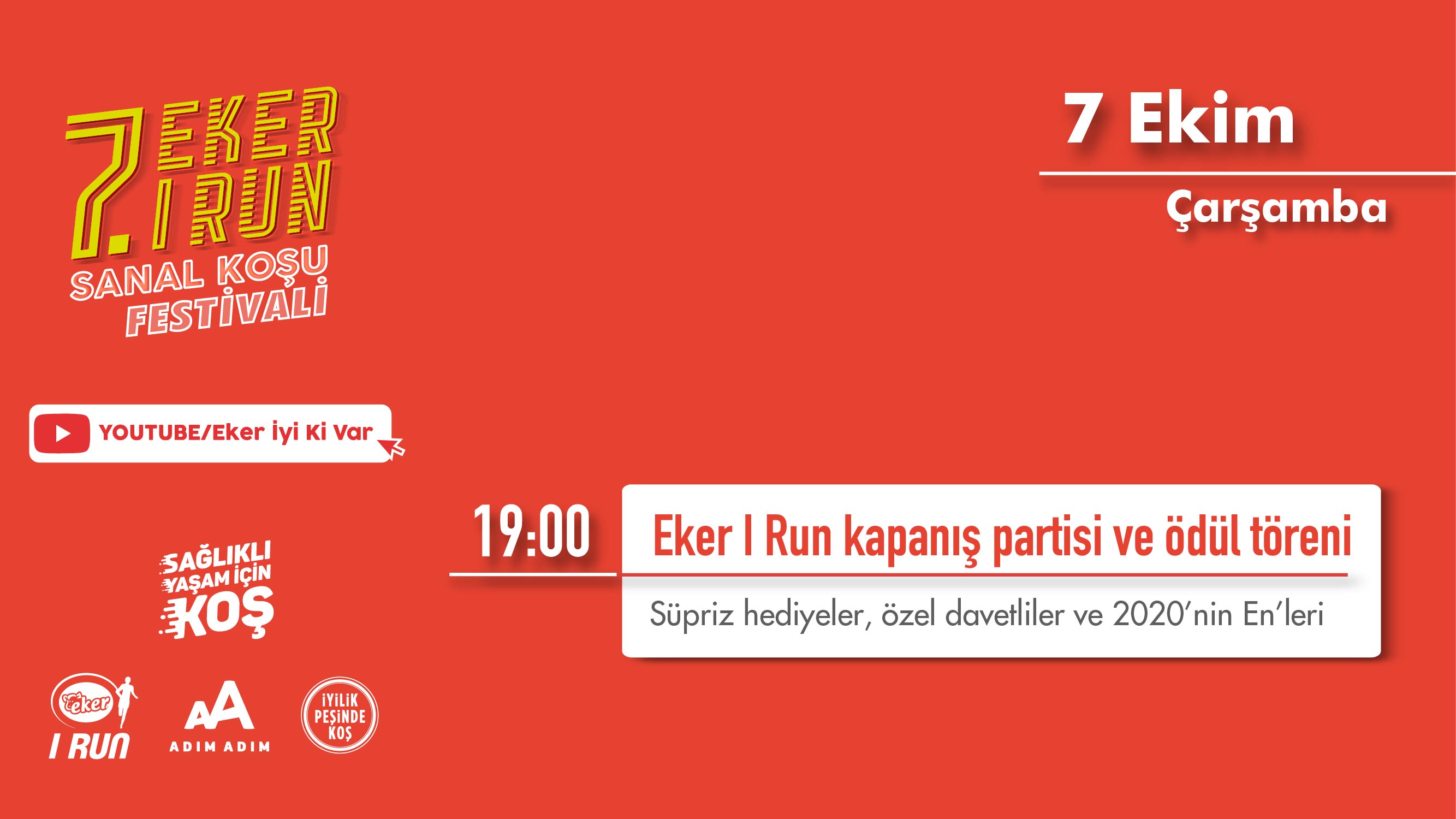 Live talks will be streamed here. Subscribe to Youtube/Eker İyi Ki Var channel and get the notifications.
28/09, Monday: Opening Ceremony, Online & Running
29/09, Tuesday: Charity Running & Eker I Run
30/09, Wednesday: Carbo Party with Ayran : Feed for race, last minute tips and Get-Ready-Party, Playlist by Dj Furkan
01/10, Thursday: Inline state race and how to sub3 with white colar
02/10, Friday: Kral Şakir Run and TAF Kids Athletics
03/10, Saturday: Talks with national athletes and Immune Talks 1
04/10, Sunday: Running with hearth and life long. Immune Talks 2
05/10, Monday: Race is over, whats next? Immune Talks 3
06/10, Tuesday: All 7 year finishers
07/10, Wednesday: Closing Ceremony, Prize draws & Party


Festival 9. Gün

Festival 8. Gün

Koç Mehmet Çetin'den Tüyolar 3-Yarış Nabzı

Festival 7. Gün

Koç Mehmet Çetin'den Tüyolar 2 Sadece Koşmak Yeter mi?

Festival 6. Gün

Koç Mehmet Çetin'den Tüyolar 1-Yarış Temposu

Festival 5. Gün

Festival 4. Gün

DJ Furkan Kozanlı- Eker Virtual Run

Festival 3. Day

Festival 2. Day

Festival 1. Day

Sanal Koşu

Eker I Run Sonucumu Nasıl Yüklerim?

Gel Koş Bizimle

2017 Eker I Run Videosu

Kaymaklı Bulgur Pilavı Tarifi
How Running Changed My Life: Inspiring short stories. (only Turkish)

Mert Canbek - Koşarak Değişen Hayatlar

Kazan Ailesi - Koşarak Değişen Hayatlar

ÖZPEHLİVAN Ailesi - Koşarak Değişen Hayatlar

Elif Acar - Koşarak Değişen Hayatlar

İbrahim Nar - Koşarak Değişen Hayatlar

Sivrioğlu Ailesi - Koşarak Değişen Hayatlar

Dr.İlham Üstay- Koşarak Değişen Hayatlar

Yakuphan Erbay - Koşarak Değişen Hayatlar

Mehmet Sarıoğulları - Koşarak Değişen Hayatlar

Enis Akay - Koşarak Değişen Hayatlar

Cem Mustafa Etçi- Koşarak Değişen Hayatlar

Yaşar Kayıkçı ve Sadık Unutmaz- Koşarak Değişen Hayatlar

Berkant Büyükbaş - Koşarak Değişen Hayatlar