There are shutles to go to marathon start area from opposite of Eker Meydan shopping center (Vatan Computer). Runners who want to use those shuttles need to make reservation at packet pickup. Transport is only for the participant, no support people.
Shutle departure: 05:30 (estimated time of travel 50-65 min, depending on weather conditions)
Shuttle's pickup point (purple area):
Event Area: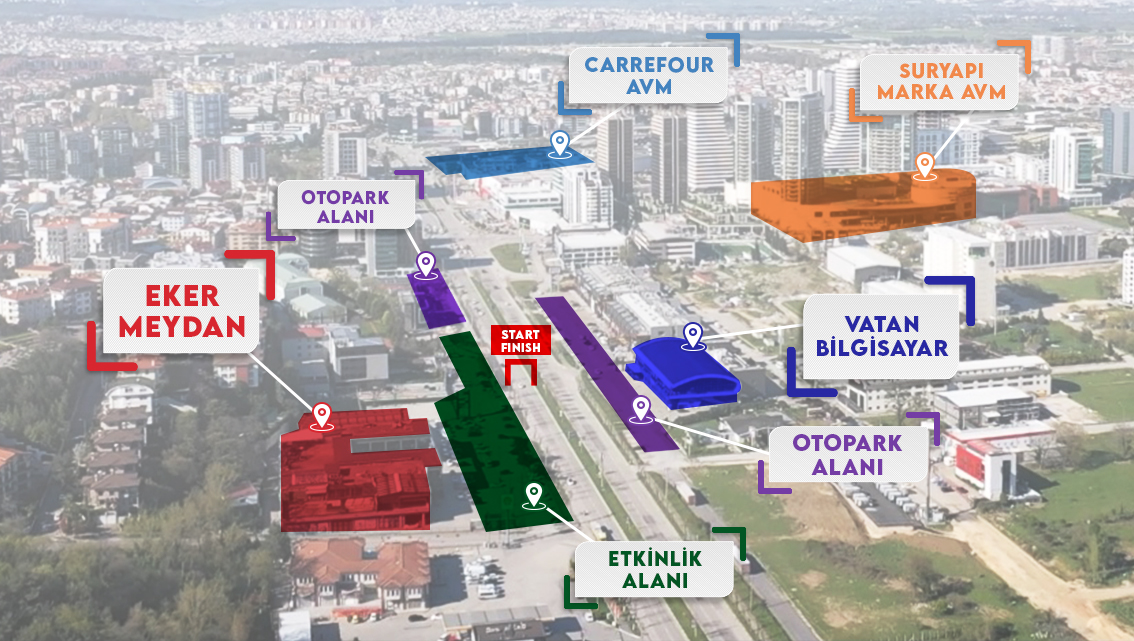 ---------------------------

Camping and Hotel partners of the race are:
Eker I Run Etkinliğinin Konaklama Opsiyonları
Extrem Park Kamp Alanı:

Şehir stresinden uzak, şehre yakın ve şehir manzaralı Bursa'nın oksijen deposu Atatürk Kent Ormanı içerisinde yer alan Türkiye'nin en büyük macera parkı Extrem Park Kamp Alanı'nda kampçılık deneyimi sizleri bekliyor.
Extrem Park Kampçılık Alanı'nda konaklama için;
İnstagram: https://www.instagram.com/extrempark.camping/
Website: https://www.extrempark.com/urun/kampcilik/
Bursa Sheraton - Aloft Otel:

Son teknolojik yeniliklere sahip, loft tarzı dairelerden esinlenilmiş rahat bir odada keyifle konaklayın.

Bursa Sheraton - Aloft Otelleri, Eker I Run 2021 etkinliğinin sponsorudur.
Tek Kişilik Oda: 300 TL
Çift Kişilik Oda: 400 TL

*Fiyatlara KDV dahil değildir.
Rezervasyon için: https://www.aloftbursa.com/